Take a stroll down one of the buzzing, vibrant streets of any Indian city. Amidst this stimulating sensory experience, you will notice the ubiquitous, physical manifestation of India's new-age digital payment infrastructure — the UPI QR code. Whether transacting at a ticket counter or engaging with street vendors, the QR code will be available as a popular payment option. Such is the remarkable reach and accessibility of the India Stack, the country's revolutionary digital public infrastructure.
India Stack is the moniker for a set of open APIs and digital public goods that aim to bring the country's vast population into the internet age. It works on a massive scale, with Indians — cutting across states, urban/rural areas, socioeconomic classes, languages, and professions — regularly engaging with one or more India Stack products to unlock the foundational elements of identity, payments, data, and networks.
The diverse range of services within the India Stack seamlessly converge into a unified digital infrastructure, catering to various layers of the value chain. At the core of the India Stack lies the vision of treating digital infrastructure as a public good, fostering digital, financial, and social inclusion for all sections of society.
A bit complicated? Chalo, join us as we explore the India Stack through a day in the life of a fictional character named Sheela.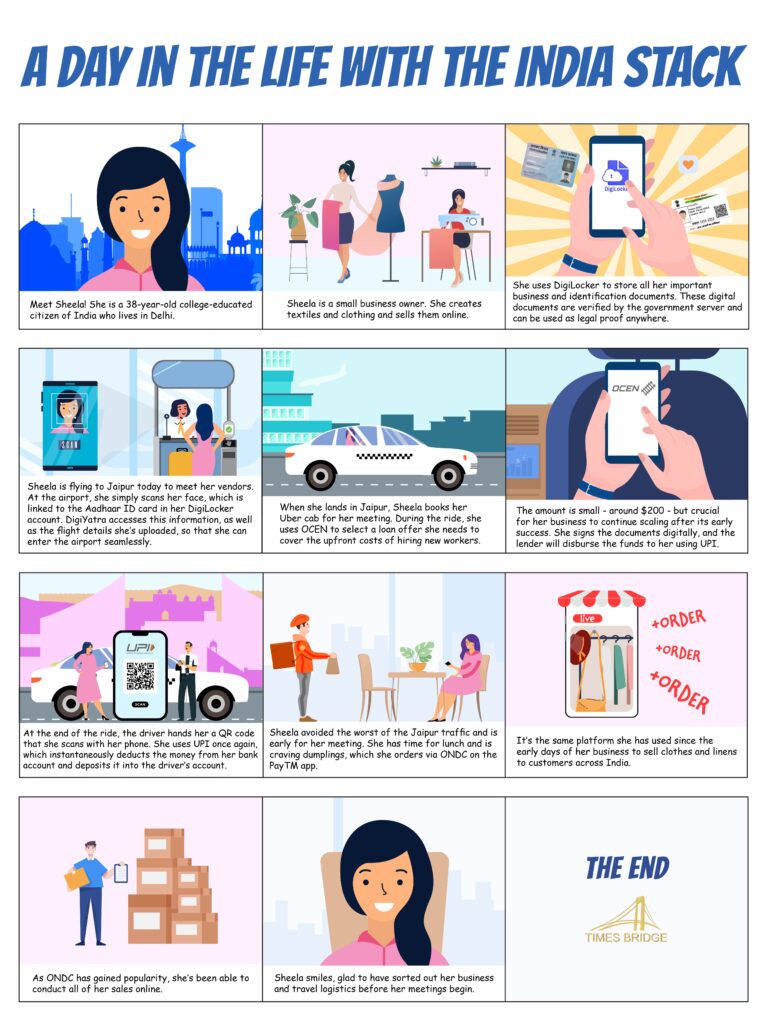 As we can see, the India Stack ecosystem is pervasive, especially for India's 600 million smartphone users. And the ecosystem remains ever-evolving, constantly incorporating enhancements and new pieces of infrastructure. What began with the Aadhaar national identity platform in 2009 has now grown into an interconnected ecosystem, with the new Open Network for Digital Commerce (ONDC) enabling e-commerce for all. Some of the most noteworthy consequences have been a surge in bank account openings, wider adoption of digital payments, and increased uptake of government subsidies for those who qualify.
Following huge domestic success, the India Stack is also gaining international recognition and acceptance, transcending its namesake to become relevant across both emerging and developed nations. Several countries have already started adopting the underlying technology of the India Stack. Soon, eleven countries, including the US, UK, UAE, and France, will allow Indians to access UPI services abroad without relying on an Indian phone number.
Such widespread adoption of the India Stack, applauded by government ministers, the private sector, and international organizations such as the World Bank, stands as a testament to its robust underlying technology. That technology serves as one of the most foundational forces propelling India's flourishing digital economy, which remains poised to grow from ~$175 billion in 2022 to $1 trillion by 2030. Rightly so, the India Stack has become an integral part of modern India's growth story and core identity, connecting the diverse landscape of the country — and capturing the world's attention.
Glossary of terms:
Identity:
The bedrock of the India Stack is a set of digital identity products centered around Aadhaar, India's national identity program. Aadhaar, which translates from Hindi to "foundation," was created to provide a unique identification system, addressing the challenges of identity verification, while streamlining service delivery, promoting financial inclusion, and building a robust digital infrastructure. With over 1.35 billion (95%) Indians enrolled in Aadhaar, about half of whom have their bank account linked, Aadhaar aims to ensure inclusive access to services, eliminate duplication and corruption, and enhance efficiency in governance while safeguarding privacy and security.
DigiLocker is a secure platform offered by the Government of India, which allows citizens to digitally store and access their official documents, such as tax documents or vaccine certificates. The platform eliminates the need for physical document storage, promotes paperless processes, and facilitates easy sharing of documents with authorized entities. DigiLocker has gained significant popularity and usage since its launch in 2015, with millions of users registered on the platform.
Payments:
India's Unified Payments Interface (UPI) is a real-time payment system that enables individuals to make instant, secure, and hassle-free digital transactions directly from their bank accounts using a mobile device. It has revolutionized the way people send and receive money, offering a convenient and interoperable platform that supports a wide range of payment services and applications. And, in just 5 years, UPI has grown from an ambitious idea to the world's 5th largest payment network by volume, behind only Visa, Alipay, WeChat Pay, and MasterCard. It is the driving force behind the exponential growth in India's digital transactions.
Data:
The Data Empowerment and Protection Architecture (DEPA) is a framework that aims to empower individuals with control over their personal data and enable them to securely share it with authorized entities. Rolled-out in India's financial sector in 2020 and now being tested in the health sector and others, DEPA facilitates the seamless and consent-based exchange of personal data, promoting transparency, privacy, and innovation in the digital realm.
Following the DEPA model, India's Account Aggregator (AA) is a consent-based, data-sharing system that enables individuals to aggregate all of their financial information in one place and securely share it across various institutions, such as banks, insurance agencies, and other financial players. AA strengthens the overall financial ecosystem by providing individuals with an audit trail of past income and widening the addressable market for financial institutions.
Networks:
Open Network for Digital Commerce (ONDC) is a framework introduced by the Government of India to foster a competitive and inclusive digital commerce ecosystem. It supports the digitization of small businesses by linking them with a payments and logistics infrastructure. The initiative has set an ambitious target of $48 billion annual gross merchandise value and 1.2 million sellers by 2027.
Open Credit Enablement Network (OCEN) democratises credit for small borrowers and enables lending as a feature for marketplaces. A 2021 pilot saw loans as small as $2.50 authorized through the network, as compared to the average loan of $475.
India's Unified Health Interface (UHI) has been conceptualized as a digital platform that will integrate and streamline health-related data across various healthcare systems and stakeholders in the country. Proposed to serve as the backbone of India's healthcare system, UHI will centralize patient information, including doctor and test appointments, teleconsultations, and ambulance services.