Dear Reader,
We hope you've been doing well.
As we step into the latter half of 2023, we are delighted to share some of the latest highlights from the Times Bridge portfolio, The Times Group, and India's ever-evolving tech ecosystem.
Happy reading!
TIMES BRIDGE INSIGHTS
INDIA STACK 101
In our latest blog post, we've attempted to explain India's much-loved and widely successful digital public infrastructure, known as the "India Stack." Ushering India's vast population into the digital age, the India Stack facilitates access to the foundational elements of identity, payments, data, and networks. This comprehensive array of services seamlessly converges as a unified digital structure that caters to various stages of the value chain.
The role of this technology stack in India's development has garnered international attention, acclaim, and adoption. For more insights, plus a glossary, you can find the full story here.
INDIA IMMERSION STORIES
This quarter we unveiled our latest initiative: India Immersion Stories!
With the complexities and nuances that lie in the vast Indian market, we at Times Bridge have always used a localized approach to strengthen the presence of our portfolio partners across the subcontinent. In each edition of our LinkedIn Newsletter, we aim to delve into a specific intervention we have undertaken with our global partners, shedding light on the opportunities, challenges, and meticulous processes that led to their success.
In our first edition of India Immersion Stories, we took a deep dive into how we built inroads for Canva's education offerings with students and teachers around the country. You can read more here — don't forget to subscribe!
TIMES GROUP HIGHLIGHTS
As part of The Economic Times Conversations series, Sam Altman, CEO of OpenAI, sat down with Satyan Gajwani, Vice Chairman of Times Internet, for a stimulating discussion on AI and its implications for businesses, employment, and societal dynamics — in India and at large.
The packed crowd included policymakers, executives from top technology startups, and prominent business leaders. You can watch a replay of the conversation here.
PORTFOLIO HIGHLIGHTS
Our portfolio partner companies have had an impressive 2023 so far, generating outsized impact and growth in India and, in so doing, advancing their global position as well.
AIRBNB
Following last year's collaboration with Goa's state tourism department, Airbnb and the Indian Ministry of Tourism have forged a fresh alliance, highlighting the nation's heritage accommodations and advancing cultural tourism as part of the Ministry's "Visit India 2023" campaign. Airbnb continues to play a pivotal role in unlocking novel economic and societal prospects through travel, especially in lesser-known Indian destinations.
UBER
Uber's worldwide pledge to become a zero-emission mobility platform by 2040 is materializing in India, where its operations span more than 120 cities. The company launched its Uber Green initiative in June, introducing 25,000 electric four-wheelers and plans to deploy an additional 10,000 electric two-wheelers in New Delhi by 2024.
COURSERA
Emphasizing India's central role in its global growth strategy, Coursera has introduced Coursera Hiring Solutions as a pilot program before any other market in India, where the company has its largest user base of nearly 20 million learners. The innovative employment platform is poised to reshape the international hiring arena, while leveraging Generative AI for burgeoning employment opportunities.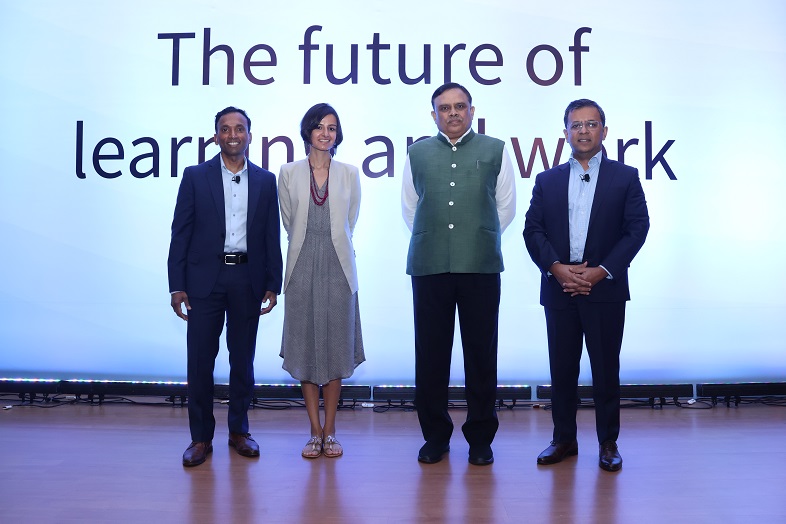 MUBI
Award-winning actor-filmmaker Konkona Sen Sharma recently collaborated with MUBI, meticulously curating iconic films for audiences to rediscover on the streaming platform. The partnership exemplifies MUBI's ongoing commitment to serving the refined tastes of Indian cinephiles, while solidifying its status as the world's premier hub for thoughtfully-crafted cinema.
SMULE
Smule teamed up with Sony Music India to orchestrate a singing competition for the popular Hindi melody "Bairiya." The contest gave a platform to India's gifted and aspiring vocalists, forging positive social connections that have become representative of Smule's community-led programming and outreach in India.
STACK OVERFLOW
Stack Overflow has recently announced OverflowAI, an expansion of its AI capabilities across both its enterprise product — Teams — and its public site. The new offerings will be available to developers all over the world, including in India, one of the fastest-growing SaaS markets and the second-largest traffic generator for Stack Overflow's public site.
HEADSPACE
In June, Headspace won the Apple Design Awards for the Social Impact category. Since its inception, Headspace has maintained its position as the benchmark for mental health apps — a particularly remarkable feat considering the complexity of addressing mindfulness and mental health via an app. The awards honor excellence in innovation, ingenuity, and technical achievement in app and game design.
INDIA INSIGHTS
With Generative AI finding its way into multiple sectors in India, AI4Bharat is leading the charge for public investment in open-source technologies for regional Indian languages — championing the country's vast diversity and empowering every voice.
India's embrace of diverse cultures powers its integration with the global economy. Right now, Indians are enamored by Korean culture — from music and movies to beauty and food. Data shows that the K-pop boyband BTS generated 778 million views from India on YouTube, while 35% of Indian women claim that 25% of their beauty products are Korean.
Music from India's iconic Bollywood movies has long been the heartbeat of its melodies, but times are changing. Thanks to social media and streaming platforms, independent artists are finding a chance to shine brighter than ever — and indie music is now India's fastest-growing category on Spotify.
Thanks for reading. Until next time!